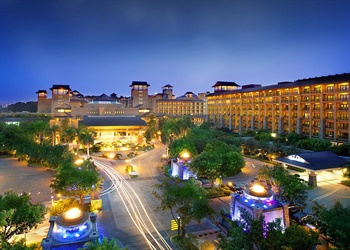 Guangzhou's Chimelong Hotel (Guangzhou Changlong Jiudian) is conveniently located to several Guangzhou attractions including Changlong Aquatic Amusement Park, Changlong International Circus, Xiangjiang Safari, Guangzhou Crocodile Park and a driving range.
The Guangzhou hotel's design features aboriginal motifs and a relaxing blend of natural colors and textures. This Guangzhou hotel has various guestrooms and suites equipped with modern amenities such as satellite TVs, broadband Internet access, mini bars and balconies.
Hungry guests can enjoy various international cuisines such as Chinese, Western and Japanese. The bar and lounge is also a great place to socialize or relax after a long day.
A business center and meeting rooms are available for those traveling for work and the on-site international convention and exhibition center covers an area of 30, 000 sq m (35, 880 sq yd) and consists of two sizable banquet halls and 60 functional conference halls.
Guests at this hotel can get a sense of being in the African grasslands when viewing the white tigers and flamingos in the garden atrium. Those looking for a nice place to swim can visit the atmospheric grand swimming pool and jacuzzi, which are surrounded by a host of tropical plants and trees. Among them is an enormous specimen of Australian algae cultivated with great care, the base width of which now exceeds a meter in diameter. To further relax, guests can also take advantage of many sports activities such as racquetball, virtual golf and tennis or kick they can back in the sauna or spa.
For entertainment, guests can head to Changlong International Circus to experience various shows including equestrianism and aerial ballet. More than 300 hundred actors and 1, 000 animals join the stage to present the audience with an unforgettable performance.